Meet the Mares
Dun Done It---91-37914-
A beautiful buckskin, DD passes on her exquisite head, soft eyes and great disposition. DD also carries the paint gene (she has a small white spot on her left hip) which she passes on, along with lots of chrome. Only shown twice. Placed first in the Senior Model class at the 2001 La. Championship show and at the 2001 Show & Celebration (pictured above) placed 5th.
Click here
to see some of DD's offspring.
Click on any picture if you would like to see a larger version of the picture.
Rose's Sassie Tassie D.M.--88-32703-
Sassie is a beautiful blue roan tobiano. She is a pleasure to ride with her extremely smooth gaits and power steering. Her classy good looks and animated way of going make Sassie a real eye catcher. She is pictured here with her first foal, Smokey, an almost perfect carbon copy of his mother.
Click here
to see some of Sassie's offspring.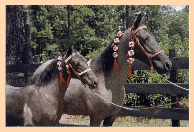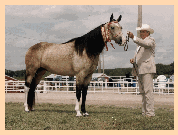 We have been reducing our "herd", and these are the only two mares we have at this time.